The EH Horizontal Multistage pump from Franklin Electric E-tech with the new inverter device Drive-Tech MINI is an state-of-the-art booster set which combines efficiency, simplicity, innovation and safety.
Efficiency: The Drive-Tech MINI achieves overall energy savings up to 40 %, compared to conventional speed control systems.
Simplicity: The Drive-Tech MINI is mounted directly onto the motor control box. It is already supplied with a 2.0 meter power cable and a 1.50 meter cable to connect with the pressure transducer.
Innovation: The Drive-Tech MINI can be controlled manually by the board panel or via Bluetooth by the Franklin Smartphone App "FE Connect Drivetech" (Android and IOS), enabling you to set and monitor the system remotely, save working data and increase the pump performance.
Safety: The integrated Class B (EN55011) input-filter prevents any type of disturbances in the domestic network to ensure a reliable use. The filter follows EMC Directives (electromagnetic compatibility).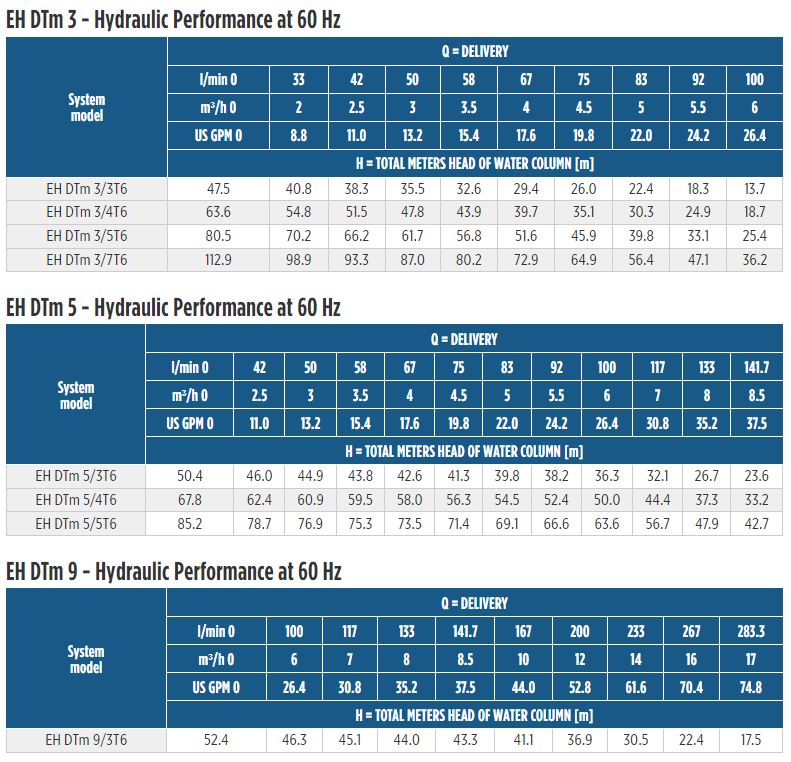 Features
Compact close-coupled design, robust and corrosion resistant / Superior efficiency and performances
Flexible application base plate
Floating neck ring in PPS
Oversize motor shaft
Impellers and diffusers are made of stainless steel in order to achieve durability
Easy maintenance
Strong motor rolling bearing fitted in the motor bracket
Pumping of clear non-loaded fluids
Mechanical seal Type E0 = carbon/ceramic/EPDM
Energy saving due to variable speed control
Soft start and soft stop
Extended system life and reliability
Simplified installation on motor or wall
Easy and fast commissioning thanks to initial configuration wizard
Installation on humid and dusty environment made possible by IP55 (NEMA 4) protection degree
High thermal and mechanical performance thanks to aluminum case and independent ventilation
Pump specification
Flow: up to 17 m³/h
Head: up to 99 m
Connections: Rp threaded for inlet and outlet
Maximum working pressure: 10 Bar
Maximum altitude at rated current: 1000 m
Maximum ambient temperature: 40 °C
Liquid temperature range:
Minimum: from 0 °C according to gasket material
Maximum: +80 °C for domestic use (uses covered by CEI EN standard 60335-2-41)
The hydraulic characteristics are guaranteed, according to ISO standard 9906:2012, grade 3B
For full Drive Tech Mini Specifications please see the technical tab and product sheet download or visit the web page: